Why New York's State Prisons Need Independent Oversight
In response to systemic abuse, neglect, and secrecy inside New York prisons, state legislators Julia Salazar and Danny O'Donnell have introduced a bill to establish a state Office of the Correctional Ombudsman to investigate and report on correctional facilities.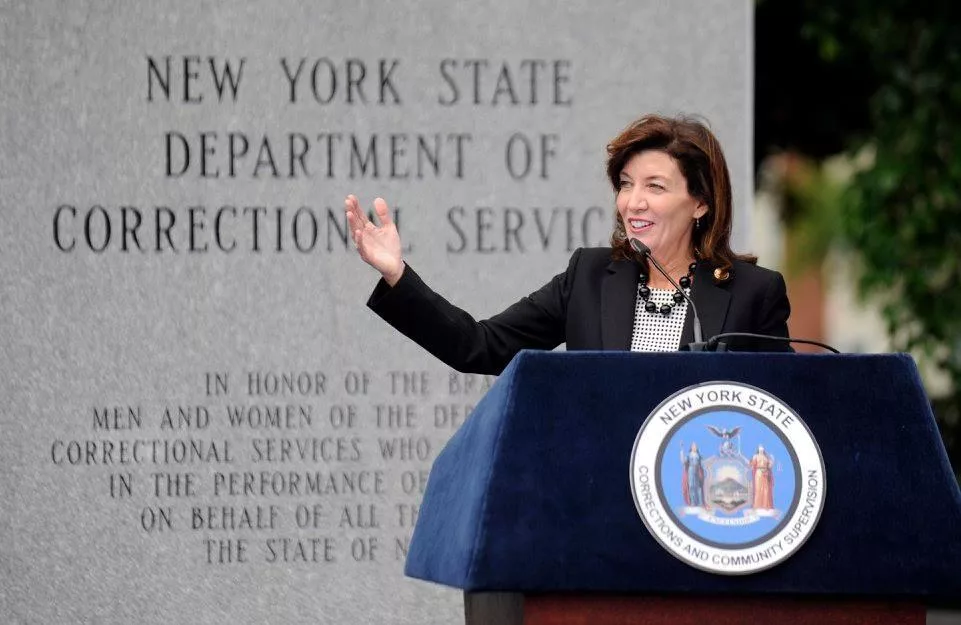 ---
As New York State Senator Julia Salazar toured the Great Meadow Correctional Facility in August, pleas for help reverberated across cell walls and through frosted plexiglass. Secret closets sat in surveillance blind spots, waiting to be used to commit assaults. Black eyes marked the faces of incarcerated people. Smoke billowed from an undetermined source. And steel beds without mattresses ran cold to the touch.
The conditions at upstate New York's Great Meadow provide a window into the worst of the daily horrors in correctional systems across New York—issues that have persisted since Assemblymember Danny O'Donnell's last visit there more than seven years ago. Systemic problems in state and local facilities range from racialized abuse, absence of medical and mental health treatment, weaponized disciplinary practices, corrupt grievance processes, and pervasive physical, sexual, and verbal assaults.
Beyond these core issues, a fundamental lack of transparency keeps the state's correctional institutions shrouded in secrecy and unaccountable for abuse, poor treatment, and neglect. As part of a broad movement to address the frequent human rights crises intrinsic to jails and prisons throughout New York, we have introduced a bill to establish the Office of the Correctional Ombudsman—an external agency appointed to investigate and report on the operations of correctional facilities.
A culture of impunity, cover-ups, and abuse has permeated New York's correctional system since its inception, underscoring the need for built-in transparency and accountability. Earlier this year, The Marshall Project found that, in at least 290 cases where the New York Department of Corrections and Community Supervision (DOCCS) tried to fire staff accused of abusing incarcerated people, three-quarters of those employees allegedly orchestrated cover-ups. Staff members were repeatedly found to have conspired with other correctional officers to hide evidence.
In 2023 alone, at least nine people have died while in custody or shortly after release on Rikers Island. A report from a court-appointed monitor revealed more than 144 recorded instances of stabbings and slashings within the jails on Rikers during just the first five months of the year. Last year, the New York State Inspector General found widespread racial disparities in the administration of discipline within DOCCS—with Black incarcerated individuals being more than 22 percent more likely to receive misbehavior citations. Reports like these exist in every jail and prison across the state, further bolstering the need for an Ombudsman.
The central roles of the Ombudsman would be to monitor and report on the correctional system, provide transparency, promote accountability, offer solutions, and generate evidence-driven recommendations to the relevant departments based on their findings. The Ombudsman's office would make its reports available to the public, the legislature, and the executive to foster openness and shared responsibility. The idea of external oversight of correctional facilities isn't a recent development, either: Since at least 1973, the Department of Justice has supported the concept and said an ombudsman could bring about much-needed transparency.
We understand that one new oversight agency will not miraculously solve the problems outlined here overnight. And we are not claiming an ombudsman would do so. Prisons and jails produce environments where abuse, misconduct, and violations of fundamental rights are often inevitable. However, an ombudsman can serve an essential—and currently near-absent—role for incarcerated people throughout the state: as a witness. When legislators like us visit correctional facilities, incarcerated people are routinely, overwhelmingly, and often devastatingly relieved that someone is willing to simply hear them out and validate their suffering. There is power in shining a light on the experiences of people who have historically been given few abilities to record their accounts—let alone to seek external recourse and accountability using official channels. By documenting the everyday suffering of incarcerated people, we can get one step closer to ending it.
State Senator Julia Salazar is the Chair of the New York Senate Committee on Crime Victims, Crime, and Corrections and routinely visits jails and prisons throughout the state. Assemblymember Daniel O'Donnell is the former Chair of the Assembly Committee on Corrections and a previous Public Defender with the Legal Aid Society.